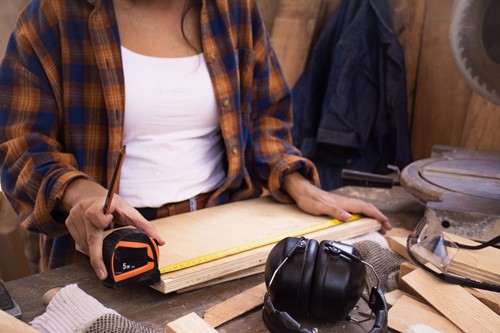 Wood crafting can be expensive but it doesn't have to be. With some basic tools and a little know-how you can make dozens of unique decorative and functional furnishings for your home on a budget. If you're looking for wood craft ideas that won't cost a fortune, we've put together some tips to help.
Blanket Ladder
Ladders have become an important and popular part of interior design. You can use them to create many useful furnishings like bookcases, lighting fixtures and rustic decor. One way to upcycle an old ladder that's easy on the budget is to create a blanket ladder. For a wooden ladder, all you'll need to do is sand the surfaces to prevent splinters and fabric snags. Then hang blankets over the rungs to add instant coziness and keep them close when you need them.
You can use this same idea for more than blankets, too. Try a ladder in your kitchen to hang dish towels or in the laundry room to hang drying clothes. Ladders are truly versatile and don't require any expensive refurbishment to make great decorative pieces.
Wall Hooks
You can never have too much storage and wall-mounted storage will save valuable space. A great woodworking DIY project is to create a board with hooks to hang on the wall. You can use this for keys, towels or even jewelry organization. The process is simple and only requires a perfect piece of wood and some metal hooks from your hardware store.
To start, you'll want to sand the wood plank or piece for your base. If you want to add any paint or stain, make sure it has time to dry before moving on to the next step. Using a manual screwdriver or cordless drill, attach the hooks to the wood surface in either a symmetrical or staggered pattern. Keep in mind what you plan to hang on the hooks when determining the space between them and you'll have a useful and inexpensive handmade storage solution in no time.
Hanging Rope Shelf
Hanging wall shelves are a huge trend in interior design and also make quick and budget-friendly crafting projects. All you need to get started is a board in the size you'd like your shelf, a wide drill bit and some rope. After sanding the wood, use a cordless drill to add two holes on either end of the board. Feed the rope through the holes and tie knots on the bottom to hang.
You can customize these shelves for specific purposes such as hanging potted plants. Cut circular holes in the board the same diameter as a small planter and you can nestle them securely into the shelf without worrying about balance. You can hang these rope shelves against the wall or even in windows. You can even make multiple hanging tiers for more storage, all for the low price of easy-to-find materials.
Crafting can be a great way to save money on home decor, but it's easy to get carried away at the hobby or hardware store and end up over budget. Luckily, these project ideas should keep you within your comfortable spending range and provide you with unique handmade items for your home.